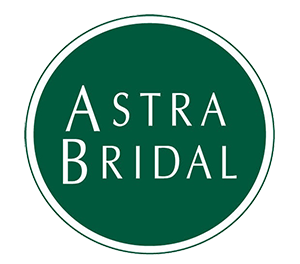 A mutual friend set up this beautiful couple via Snapchat! After two and a half years of dating, one of afternoon while Alana was on hold to an insurance company Lance asked what was for dinner. Alana replied and asked him to turn the oven on, after having to ask three times, Lance responded saying he though they could just grab dinner at the mall after the bought a ring! Needless to say Alana quickly jumped up and they immediately left to go get the ring of her dreams.
Alana wore the 1845 by Kenneth Winston, "I saw a gown on the website that I fell in love with and emailed Astra and the beautiful Dee responded telling me that it was no longer being made but made it her personal mission to hunt dresses for what I liked and sent them through to me. This was all before I even have an appointment. I saw this Kenneth Winston dress online and thought wow that's a show stopper and had everything I wanted: layers, lace, details and fit and flare/mermaid style. It was my second dress I tried on and it was the one. I got my veil and shoes also from Astra which were just perfect. And omg those shoes were so comfy, I wore them the WHOLE day, for someone who doesn't wear heels this was huge!"
Alana and Lance's dreamy wedding day flew by! The day was surreal with everything coming together as planned and celebrating with all their loved ones (even if some were attending via video call), the happy couple can say it was the best day of their lives! Congratulations!