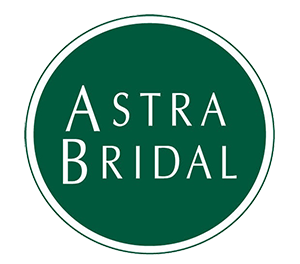 Brooke and Deek met back in 2014 and became a couple after Deek tried out some new pick-up lines! They spend the next few years growing their relationship, renovating and selling Deeks house and then buying their first home together. September 2019, they went on an OE across the UK, Europe, and planned to come home through New York. While traveling through Rome, Deek got Brooke to throw a coin over her shoulder to make a wish, upon turning back around he was down on one knee with hundreds of people cheering and clapping.
Brooke wore the Farrah by Theia Bridal, "The only thing I had ever really thought of was that I liked the more classic look but liked the idea of an open back. I wasn't sure whether it would be lace or crepe or what.We had been to two other shops prior to Astra and the experience wasn't comparable. Restrictions on taking photos and limited/extra small sizing made it hard to really get a memorable idea.The Farrah was the first gown I tried at Astra among many and my face lit up. It was every bit like the picture. I tried many more and spent quite some time there with my mum and cousin but we just kept coming back to the Farrah. Simple and classic while still making a bit of a statement. Was nice to also have a train that had a bit of weight so it held its fanned out shape. And then the veil had the perfect touches of lace and extra train length to go with it".
Their wedding day was everything and more! On the 14th of November 2020, Brooke and Deek said "I Do" in front of family and friends. Their day flowed perfectly, with lawn games and pictures, followed by amazing speeches and a delicious meal; they hit the dance floor! With full hearts and lots of love going around this will be a day they will never forget!