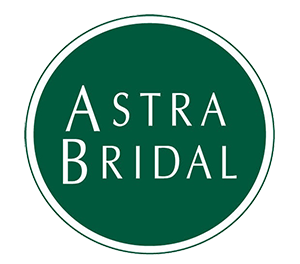 Dee
Dee is the foundation of the Hamilton team. A consultation with Dee will be full of laughter and love. Love of brides, love of gowns, love of matching the two. Dee is really passionate about giving brides a positive body image with reassurance, and demonstrating how a beautiful gown looks. Many of our brides come to think of Dee as their second Mum!
Photo courtesy of Nicola Inglis.
Contrary to popular belief, a wedding isn't actually all about the bride. Choosing "the dress", however, is. I came to Astra, on the recommendation of a friend, with absolutely no idea where to start and feeling strangely nervous. That feeling didn't have chance to linger though; Dee and the team made me feel completely at ease and confident in my decisions within minutes. If you want utter professionalism, an extensive range of dresses, comfort and fun; go to Astra Bridal. It will be a day you won't forget. Just as it should be.
Rachael Travers
Just wanted to say thank you so much for the card and photo, it was such a lovely surprise! And a big thank you to you and Khym, I really don't know what I would of done without you two! I really appreciate you both going the extra mile to help me out! Can't wait to come back in!
Ella
Doesn't get better than Dee!! I had been to quite a few bridal stores before going to Astra Bridal and I definitely saved the best for last. As soon as I walked through the doors I was greeted by the amazing Dee and she made my whole experience so amazing! Not only did she help my find my dream dress but she made me feel so special and beautiful! She is an amazing person and she will always be part of my little wedding journey! I could not recommend Astra Bridal enough! If you end up going make sure you ask for Dee.
Megan Auge
If you haven't booked to go to Astra Hamilton, put it on your to do! From the moment mum and I walked in we felt so comfortable and welcomed. A big shout out to Khym and Dee, you made the process an absolute dream! Thank you so much!! Bring on the big day!
Annaliese O'Leary
Dee was fantastic and so helpful for my very nervous daughter. This was her first time at a dress fitting and she was very quiet and reserved to start with, but Dees easy and enthusiastic personality brought my daughter out of her shell and made a truely wonderful experience for her and myself, my aunt and cousin. Thank you Dee for making Charlotte feel beautiful and cared for.
Tia Marshall