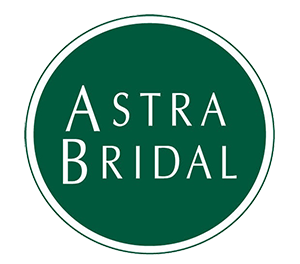 Sam and Karenza met in their youth group back in high school; they kissed once, got in trouble for staying out past curfew and their relationship lasted three months. Despite going their separate ways for a number of years, when their paths crossed again it wasn't long before that spark became a flame! Five years had passed and Karenza decided it was time to pop the question, she didn't realise at the time Sam was also planning to propose, however she beat him to it. Karenza planned the proposal to take place while on a walk together, arranging to have a nearby construction worker take photos. Sam still went ahead with his proposal plan, recreating their first date from when they were back in high school.
Karenza wore the Marnie by Jenny Yoo, "I had tried on A LOT of dresses already by the time I made it to Astra Bridal. So I already knew that I was looking for a sheath dress with a v-neckline. I had tried on many that fit this description but none quite felt right. The dress was on a mannequin near the front of the store, my mum and I noticed it at the same time and then locked eyes. We both loved how effortlessly elegant it looked, and I matched my personal style well. I knew as soon as I had it on that it was the one".
Their wedding day started out in an unusual way. Meeting each other in the morning to take covid tests before being able to travel to Rarotonga for their honeymoon after the wedding. The rest of the morning was spent getting ready with thier bridal party, having fun and settling nerves. With a love for all things thrifted and mismatched their wedding reflected this with the unique items they had sourced as decor. Congratulations Karenza and Sam!