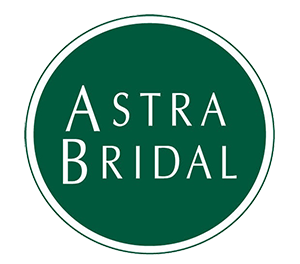 Having met in high school when they were just 15, Terry and Leah can truly say that they are high school sweet hearts! The proposal took place in July 2019; after having travelled to Northern Ireland for a family holiday, Terry and Leah decided to go to the Giants Causeway along the North Coast. Known for breathtaking views, it was the perfect place for a proposal! Whilst enjoying the views, Leah turned around to find Terry down on one knee where he then asked her to marry him!
Leah wore the 1818 by Kenneth Winston, "It's funny because my wedding dress ended up being the first dress I tried on, ever. I remember driving to Astra Bridal with my sister, mum, 6 year old nephew and maid of honour at the time and saying don't worry girls I am only looking we will go to other bridal stores. Well that didn't happen, I tried on the dress and instantly fell in love. The details were so breath taking, I loved how elegant the beading and lace was on the bodice and how simple the fabric was from the waist down on the front of the dress. However, I always dreamt of having a long train on my dress since I was a little girl so once I saw the back I just knew it was the one. Elysia was so fantastic, she made me feel so comfortable in the changing room helping me try on my dress and made me feel so beautiful once I had it on. I remember her saying, "It's your choice but my advice is I truly think if you go to other bridal stores to try on dresses you will keep thinking about this one and it fits you like a glove". She was so right even though I bought it during that first fitting after trying on a few more dresses in the store I couldn't stop thinking about my dress. Looking back at my wedding photos I am so glad I choose my dress".
Their wedding day was nothing short of perfect! With the sun shining, a relaxed atmosphere, and the livestream set up for their family overseas, their perfect day was ready to take place! Speeches topped off their day, creating beautiful memories that will last a lifetime! Congratulations!
---
---
---