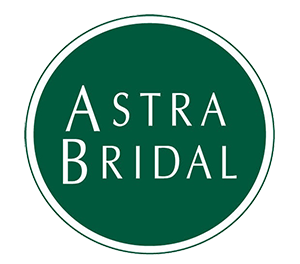 Patrick and Samantha met via mutual friends at a dress up birthday party, Samantha was a Playboy Bunny, Patrick dressed as Braveheart. 12 years on, they were in Ngawi celebrating their anniversary. Samantha had suspicions that Patrick was going to propose especially when the ring box fell out from his pocket while driving. While looking for rocks at the waters edge, Samantha heard Patrick say he had found a rock where she then turned around to find him down on one knee.
Samantha wore the 4417 by Christina Rossi, "Since I had started thinking of what I was going to wear, I had always envisaged a lace dress. This was not at all what I wore. When we arrived in Astra Bridal I told the wonderful staff what I wanted and they pointed me and my friends in the direction of those dresses. I offhandedly mentioned I wanted to try on a "Big Fat Gypsy Wedding" style dress, because, who doesn't want to try on a princess dress just once? Unbeknownst to me, the two staff members had, upon seeing me and hearing my offhand 'big dress' comment, both picked the exact same dress for me to try on, taking it off the mannequin and then putting it in the changing room along with the dresses my friends, family and myself had picked out. Satin, not a spot of lace, and as big as you can imagine, it did not fit any of the criteria or visions I had for a dress. After I had picked out some dresses, as had my friends, I went into the changing room and saw this colossal dress. "I have to try that on first! Everyone will love it and then I'll try on the dresses I really like." Well. I put it on and if I'm being honest I knew, I probably knew when I saw it, but I walked out and it was stunning. It accentuated my shoulders and then tightened at the waist giving me a lovely shape, the 'poof' perfected matched my personality, and the colour complemented my skin and hair. The other dresses were beautiful, and I loved them, but none looked as good or made me feel as beautiful as that dress. And so I bought it! I did some alterations with the back, I made the straps sit further out, and I put in pockets (!!!) but it was perfect. It wasn't until I was paying that I realised it hadn't been my friends who had put the dress in there but the Astra Bridal staff, so without them I don't think I would have found my perfect dress".
Samantha describes their wedding day as imperfectly perfect. With Covid and boarder restrictions, many close family members and friends were unable to attend, in light of this sad time, they decided to go ahead with their special day and what a day it was! With perfect weather and calm wind, those that were able to make it thoroughly enjoyed the day! They all now look forward to an anniversary party in five years to come where they will all be able to celebrate an amazing day!