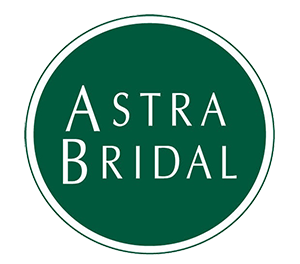 Sarah
Sarah is one of the Hamilton stylists. She combines her role as a stylist two days a week with her role as our marketing coordinator. Her goal is to make sure you have the most fun possible whilst finding the dream gown - and then maybe following it all up with a great shot for your instagram. Her extensive experience with Astra Bridal means she knows the gowns and what works best for your body shape.

I went in for a fitting session on Saturday 10th July and I had no vision of what I would wear or how I would look on the day. Getting married young, also added an intimidation factor to the experience as I know a lot of people believe that we are not ready for the big marriage commitment!Sarah was absolutely amazing throughout the entire process from making me feel comfortable in the store, picking dresses to help my gain an idea of what I'd look like to adding tips and ideas of how different gowns could be worn for my 2 weddings at different locations and wearing the same dress. I'm so excited for our day and I know that a lot of it comes from buying a dress I'll feel comfortable in and feel like I look good. Please pass on my gratitude to Sarah! I am so very grateful and so very excited!
Michal
What incredible ladies that work at Astra Bridal Hamilton. Sarah was a gem in helping me find a dress that a) suited my body type and b) something I would feel beautiful in. She was patient enough to hurl me into 10-15 dresses in the style I was set on to then say "I've got something you'll hate, but trust me.". Thankfully for Sarah, I was so exhausted from trying on dresses I couldn't say no. Maybe that was her plan all along but thank goodness I tried on that dress. It was THE ONE. Sarah was so welcoming from the get go, not to mention patient, encouraging and hilarious, which made the process much less daunting! 10/10 would go back, if only I could get married every year…
Rachael Koers
We got engaged in September 2020, and I only started properly planning in late October. I didn't want to wait over a year for next summer, and with two of my three bridesmaids pregnant and due early autumn, February 2021 seemed like my only choice! My wonderful sister/wedding planning extraordinaire decided to give me the push I needed, and booked us into Astra Bridal Hamilton for 'just a look', as she had a great experience. I hadn't even locked in the venue at this point, but to my surprise she managed to book in with the lovely Sarah, who had sold her dress to her a couple of years prior! I was a bundle of nerves the morning of the try but Sarah was so reassuring and helped make the experience seem super easy. I had basic ideas of what I wanted for my dress, and keeping in mind our budget my Mum, sister and I picked out some dresses to see what suited. The first one I tried on was chosen by Mum and I instantly felt super special. I put it down to it being the first wedding dress I had ever tried on, and assumed they would all make me feel like that. But nope, after trying several more on I kept going back to that first one. Meanwhile Sarah was a bloody champ pulling the dresses up, buttoning and unbuttoning, discreetly looking away at the right moments, and probably frowning at my non-nude coloured underwear haha. After several more try ons of my dream dress, Sarah ended up negotiating with us to ensure I could afford it. Being the indecisive person I am, I definitely didn't expect to leave that appointment having purchased one on the spot, but I'm so glad I did and that Sarah was a part of that journey.Thank you, and you know I will be bringing my friends back (in fact I already have...)
Nicole Joe
Would hugely recommend Sarah at Astra Bridal Hamilton! I selected 3 dresses I wanted to try on. Sarah gave fantastic advice, listened to what I was after and picked out some extra dresses I hadn't seen online. She ended up finding the perfect dress for me - that I would not have picked if I hadn't of tried it on. I loved that the experience wasn't rushed & it was a great time for my mother , two bridesmaids and I! Sarah helped me feel so body positive and comfortable which in other bridal shops I did not have the same experience. They had so many clips and different tactics when trying on a dress that was too big or small. The shop was stunning! So many options and the lighting was great! The wait time for dresses were about 3 months lesser than other shops with a guarantee it will be here in time. Can't wait for my dress to get here!
Nicole Parker
Once again, I would like to thank you for helping me find my dream dress. I'm finally a married woman now, and I had so many comments about how amazing the dress is. Just thought you might want to see a few photos :) Needless to say, you are great at what you do. Keep finding dresses their perfect owners!!
Jane Leung