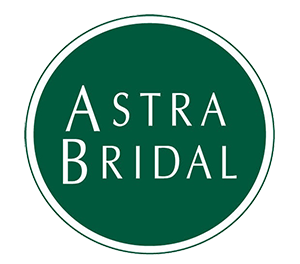 Unit E, 3 Orbit Drive (off Apollo Drive)
Albany
Telephone: 09 489 9616
Tuesday to Friday 10am-5pm
Late night Thursday by appointment
Saturday 9:30am-4pm
Astra North Shore first opened in 2005 in Takapuna, and we moved to our current location in Albany in 2018. As well as a bigger store and more gowns, we also have parking right outside; and as an added bonus our fantastic sister store The Bridal Outlet is right next door. So make sure you leave enough time to have a look in both.
The salon is a gorgeous airy space with big windows and lots of light. We aren't in a retail precinct so it is a really quiet and relaxing experience.

We cater for all size ranges with our samples varying from a size 6 to a size 26. We do our best to ensure every bride gets to have a special bridal experience at Astra Bridal Northshore.

Our staff are trained to give advice on gown fit, colour, fabric, design to suit your body shape and the style of wedding. They are also the most passionate bridal team you will find in the Northshore. They are well known for their welcoming atmosphere and for not judging any bride on budget and shape.

What our brides say about the consultants in the salon
Thank you soooo much Monica for helping me find my dream dress then being with me there every step of the way to get it fitting me perfectly!You have made the experience such a delight.Amazing, friendly and caring service

Lisa Fenton

We loved the service at Astra Bridal North Shore. Such warm and friendly staff who make you feel really special. Thanks ladies

Kim Hayes

The service at the north shore store is second to none. I went in not very excited and quite worried that I wouldn't have the moment that every girl dreams of when they put on the wedding dress for the first time. From the moment I got there Leti made me feel so at ease, she asked what I wanted in a dress and told me what she thought would work on my body type. We went and had a look at the dresses and I picked out a few that I liked and she also pulled 2 that she thought would work on me. She took me to the dressing room to try on the dresses and made me feel so comfortable about having to get undressed in front of her. I ended up falling in love with the second dress that I tried on (me and mum both ended up in tears). Of course it was one of the dresses Leti had picked for me. I am so grateful to Leti for making this such a special and memorable experience for me. I would recommend this store and especially Leti to anyone that is looking to have a magical experience while finding their wedding dress.

Ashley Kee

Hi there,

I am emailing you in regards to a great experience I had earlier on in the year with one of your lovely employees called Monica. If I could recommend anyone, it would be Monica. She helped me sift through so many dresses without pressure until I found the dress of my dreams. Not only was she friendly and caring, but her skill level was clearly evident. Monica made me feel very comfortable and at ease, especially with the stress that can come with wedding planning. It was very easy to talk about any concerns I had with my dress, and I was given various solutions to create my vision. To me this was a clear indication of her experience and professionalism. I knew I was in good hands. She altered my wedding dress to perfection. It looks and feels as though it was made for me, which is an amazing feeling. It was a pleasure to work with Monica and Astra Bridal.

Eman Al-Azi

Absolutely loved my experience at Astra Bridal North Shore, Leti and the

team we're incredible, taking into consideration all of my concerns and

theme and managed to find my perfect dress (the first one I tried!!)

then I got a super cute thank you card in the mail a few days later.

Thank you again team, couldn't have asked for a better experience!


Amber Rinkin