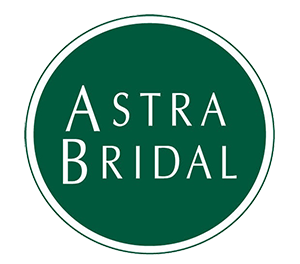 Lisa
Lisa has been involved in bridal since she can remember. Sometimes fitting sewing and designing around raising her children or having another job. When the opportunity came up to combine her passion and a career in the industry she jumped at the chance. It took no time for her to move in to the position of manager and has led the team in Wellington for a number of years. Her expertise in gown construction is fabulous and any bride lucky enough to be with Lisa will receive the benefit of that knowledge. But the construction knowledge is only part of the enthusiasm and love of bridal that Lisa can bring to a bride's experience at Astra.
Photo thanks to Laura Ridley
Thank you to the team at Astra Bridal Wellington, especially Lisa who helped me pick my wedding gown. She accommodated my crew well, helped me pick out my favourites and while in the early stages of my pregnancy, secretly helped me see myself in dresses with a belly by using a prop in the fitting room, as we were originally going to have our wedding before bubs got here. After all the dresses I liked, I tried on a dress that Lisa picked and something I didn't see myself in at first, after trying it on, it was the perfect one! So elegant and classy. She envisions everything from top to bottom and even the tiniest details you give her from hair right down to jewellery and what would look great, but leaves it up to you to decide. I cannot wait to pick up my gown this Friday and am so grateful for Lisa and the team at Astra Bridal for their knowledge and keeping me updated with where things are with the dress xx
Emilia Lesa
With getting married after Covid-19 Lisa and her team have been great, I got my dress before lockdown and it was perfect, fitted me as if it was meant to be mine. The gowns for a plus size woman were beautiful and I was treated like a bride than a big size woman, but there were dress I could try on for my size. They were organised when I arrived with dress I wanted to see but also supportive in the experience. I have ordered all my bridal items from them, and the quality is amazing. If you are like me a plus size woman who is concerned with finding the right dress, I recommend seeing them you will feel like a bride when you walk in and you will have a dress to make you look like one too.
Cushla Heaven
Thanks so much, it was great to be in the salon and I was so excited to find my dress! Thanks for being such an amazing consultant, I can't wait until I can wear my dress again!
Chloe Kincaid
My husband and I were incredibly lucky, we managed to get married on Saturday 21st March right before the lockdown was enforced. Astra Bridal was the first store I visit 13+ months ago. I didn't expect to find anything I liked, let alone THE dress I'd get married in. Lisa was amazing. She listened, she cared and knew her wedding dress styles inside out. Her expertise, professionalism, empathy and willingness to go above and beyond meant a lot. Even after I had the typical dress nightmares and panicked that I got the wrong dress - she was generous with her time and gave me so much reassurance that I had the right dress. And sure enough. She was right. Lisa I cannot thank you enough. My heart is full, and you played a big part in it. Thank you thank you xx warm regards
Peace Munro
I found my dress in my first visit! Lisa has been the highlight of my entire wedding planning journey. She made me feel so welcomed and comfortable. She's so understanding, it's like she knows exactly what I like and dislike about each dresses. She was really excited for me and she made me feel like I was trying on all these amazing dresses with my best friend! Thank you Lisa, you guys have beautiful dresses and I'm so glad that I went to Astra bridal first❤️ I recommend Lisa and Astra Bridal!
Kitty Song